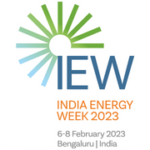 India Energy Week 2023
Feb 6, 2023 - Feb 8, 2023 12:00 am - 12:00 am
Bengaluru, India

India Energy Week 2023 will be held under the patronage of the Ministry of Petroleum and Natural Gas, on 6-8 February 2023 in Bengaluru, India
India Energy Week is the pre-eminent platform for experts in the traditional and non-traditional energy industry from around the world and will embody India's energy ambitions, showcasing it as a global powerhouse for energy transition and a hub that brings together the international energy industry.
Taking place in February in Bengaluru, India, the inaugural edition will convene leaders from the energy value chain, finance, government, think tanks and academia to address the challenges and opportunities presented by a responsible energy transition that balances security, affordability, access and sustainability.
As India accelerates its efforts to secure its energy and power by investing across infrastructure and exploration and production, India Energy Week provides a unique opportunity for key decision-makers to expedite synergies between stakeholders and identify new growth opportunities.
For more information about India Energy Week 2023, visit https://www.indiaenergyweek.com/